In recent years, with the improvement of outdoor air quality in China and a decrease in demand for formaldehyde purification, the sales revenue of air purifiers in the Chinese market has declined. In 2022, the market size of air purifiers in China dropped to 6.13 billion euros. However, with the increased emphasis on health after the COVID-19 pandemic, the air purifier market is expected to rebound after 2024. According to the Forward Research Institute, the market size is projected to reach 8 billion euros by 2028.
Characteristics of Air Purifier Buyers in China
Currently, the purchasers of air purifiers in China primarily consist of high-income individuals residing in first and second-tier cities, people who have recently moved to new homes with formaldehyde purification needs, and families with infants and young children.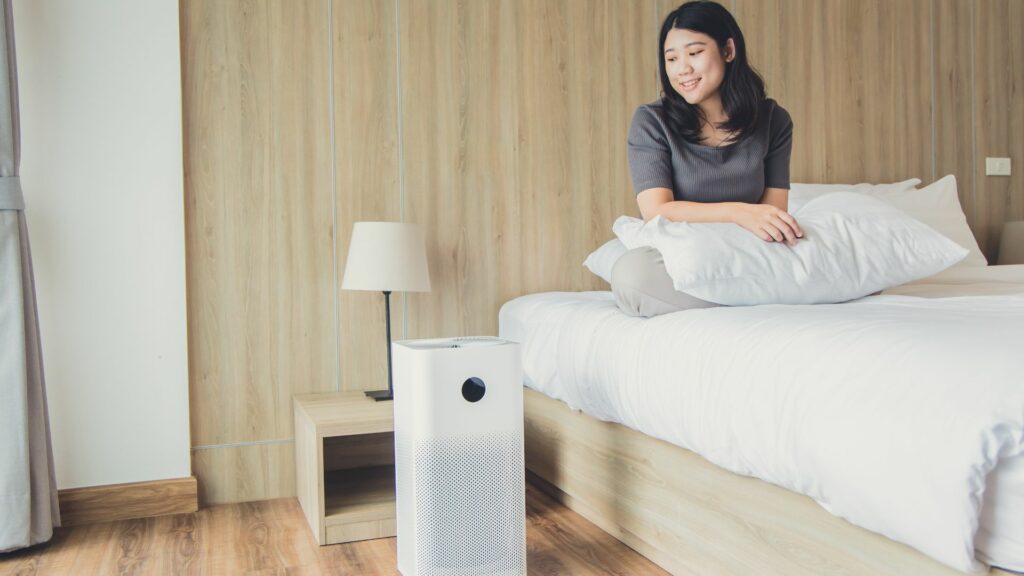 When selecting air purifiers, consumers in China pay close attention to the following factors: purification efficiency, noise levels, exterior design, ease of operation, and material quality.
Major Air Purifier Brands and Their Market Share in the Chinese Market
Currently, the Chinese market offers a wide variety of air purifiers, and the major air purifier brands include Panasonic, iQair, Toshiba, Blueair, Dyson, TEQOYA, Hitachi, Philips, Xiaomi, and Midea, among others.
Japanese brands like Panasonic, known for their representative role, mainly employ negative ion and water ion technologies. Their technological advantages and brand influence have earned them recognition in the market. On the other hand, European and American brands represented by companies like Honeywell and Philips typically focus on composite filter technologies with HEPA filters as the primary feature. Domestic brands like Xiaomi and Midea, however, have not shown significant differentiation in their technologies.
Chinese consumers' demands for air purifiers are increasing
As the market develops, negative-ion filtration technology, which produces ozone during operation, is gradually being replaced by plasma filtration. Most Chinese consumers have come to realize that the simple combination of filters and fans cannot achieve the desired purification effect to remove fine particles such as dust, pollutants, pollen, dust mites or any other undesirable airborne impurities.
Although negative-ion technology and some advanced patented technologies are currently mainly found in high-end products due to technical difficulties and higher costs, as consumers' knowledge of air purifiers improves in China, they are more willing to pay for these advanced features.
In recent years, air purifiers offering enhanced features such as disinfection, allergen microparticle removal and pollen filtration have become increasingly popular, especially for families, allergy sufferers, asthmatics and people with other respiratory problems. Some products also feature home automation functions with intelligent sensors such as "sleep mode", "filter replacement reminders" and "formaldehyde detection alerts", enabling intelligent IOT or simplified use.
How Overseas Air Purifier Brands Should Develop Strategies for Entering the Chinese Market
However, these innovative features and smart upgrades do not directly address the issue of subpar purification performance in most air purifiers on the market. They merely shift consumer attention to the additional smart features.
For overseas air purifier brands looking to enter the Chinese market, there are two strategies to consider.
The first strategy is to attract high net worth individuals and those with a strong demand for air purification by focusing on absolutely professional and efficient air purification performance. If your air purifier product has technological innovations, has won certain awards, or even incorporates patented technologies, you can leverage these advantages in your brand promotion, emphasizing the high-end and professional nature of the product to fill the gap in the high-end market. This differentiated marketing strategy can be highly effective for building brand awareness and reputation for overseas air purifier brands.
The second strategy involves studying the competition in the Chinese air purifier market and aligning the functional design with mainstream air purifier products. This entails incorporating smart features (such as "timers," "filter replacement reminders," and "formaldehyde level display") into the product. The advantage of this approach is that it targets a broader audience. However, the downside is that newly-entered overseas brands may struggle to stand out in the highly homogenized product competition in China, and many overseas brands may face challenges in competing with Chinese domestic brands on pricing.
In China, social media and search engines are essential platforms for digital marketing
Whether it's online or offline sales, brand reputation is crucial as many Chinese consumers are cautious when making significant purchases. They tend to compare different options and turn to social media platforms like Douyin (TikTok), Xiaohongshu (Little Red Book), etc., to check reviews from other consumers known as Key Opinion Consumers (KOC). Additionally, since air purifiers are considered tech products, many consumers who lack knowledge about the relevant technology heavily rely on Key Opinion Leaders (KOL) for professional analysis.
Search engines also play a vital role in building brand reputation. For an air purifier brand without much recognition in China, establishing a credible online presence on search engines is crucial to gain consumer trust. If Chinese consumers have never heard of an air purifier brand or come across many negative reviews about its products during their searches, they usually won't take the risk of purchasing from that brand.
The consumer behavior path for purchasing an air purifier is as follows:
Search for "air purifier" as a keyword on social media and come across your product.
Search for your brand as a keyword on the search engine "Baidu" to verify if your brand is a legitimate one.
Search for your brand as a keyword on social media, read other consumers' reviews, and compare the evaluations of air purifiers from other brands to narrow down the options.
Visit comprehensive e-commerce platforms or physical stores, compare product specifications, and seek clarification from customer service or sales representatives to finalize the brand and model to purchase.
Compare prices of the product across different channels and proceed with the purchase.
Xiaohongshu (Little Red Book)
Xiaohongshu is one of the most important platforms for sharing personal shopping experiences and conducting product reviews. As of January 2023, Xiaohongshu has 250 million users, with the majority being young people, especially females. These users possess considerable purchasing power and have certain expectations for their quality of life, making them potential consumers of air purifiers.
Creating an official certified account on Xiaohongshu is the first step in establishing brand credibility. After creating an official account, you need to consistently update posts with images or videos and interact with comments.
Moreover, Xiaohongshu serves as an influential platform for product recommendations, and overseas air purifier brands can actively collaborate with Key Opinion Consumers (KOC) and Key Opinion Leaders (KOL) on the platform, which is an effective way to boost brand visibility. You can engage with KOC as a consumer and introduce product advantages, conduct comparisons between different brands, or collaborate with KOLs and celebrities for brand endorsement. Xiaohongshu's users appreciate detailed product reviews; as long as these reviews are authentic and informative, they hold valuable reference value for the users.
Douyin
In China, Douyin is the most influential short video platform. The video format allows brands the opportunity to comprehensively and deeply showcase product advantages and conduct brand promotion. Therefore, overseas air purifier brands seeking to enter the Chinese market can fully utilize this highly trafficked platform to expand their visibility.
On Douyin, brands also need to create official accounts and apply for verification. They should regularly post videos. Overseas brands can also set up brand live-streaming rooms, actively engage with the audience, and provide targeted product introductions based on audience inquiries.
At the same time, brands need to actively collaborate with Key Opinion Leaders (KOLs). Suitable KOL types include technology experts, home decor influencers, parenting and baby-related influencers, among others. There are various ways to cooperate with KOLs on Douyin. Brands can ask KOLs to promote their products directly, use product placements for advertising, have KOLs conduct reviews of different air purifier brands and highlight the advantages of their products, or even collaborate with popular live-streaming hosts to introduce products and provide purchase links during the live-streams.
WeChat
WeChat is an unavoidable social media platform for almost all overseas brands entering China. Especially for overseas brands without registered companies or offices in China, since they cannot file for website registration in China (thus unable to establish official websites), WeChat becomes their most important official gateway.
Companies can open official accounts on WeChat and regularly publish articles, which serve as the brand's official blog. In these articles, brands can detail the benefits of different air purifier models, detail the technologies used to capture and eliminate ambient pollution, and highlight the prizes won. Therefore, WeChat official accounts play a crucial role for companies in brand promotion and occupying consumers' minds. When WeChat users subscribe to these official accounts, they automatically receive the latest updates, making WeChat official accounts an effective tool for customer loyalty.
Brand Official Website
If you have distributors, agents, or a registered company or office in China, you can apply for an ICP license from the Ministry of Industry and Information Technology (MIIT) and create a brand official website. The official website allows you to provide more detailed information about your brand, products, certifications, and quality tests to potential consumers. It also helps in building brand awareness and gaining trust from users.
Baidu Baijia
Baidu Baijia is the official platform launched by Baidu Browser, and overseas air purifier brands can publish blogs or videos on Baidu Baijia. Creating an officially certified Baidu Baijia account does not require the brand to have distributors, agents, or a registered company or office in China, making it particularly important for overseas brands without an official website in China. As the Baidu algorithm tends to prioritize articles published on Baidu Baijia, it provides a more convenient way to establish brand authority and credibility.
Case Study: IQAir's Digital Marketing Success Case in the Chinese Market
IQAir is a Swiss air purifier company. As early as 2016, IQAir launched an official WeChat account with certification and continued to publish articles related in particular to air quality and health regularly. In 2020, IQAir opened a certified Douyin (TikTok) account, and in 2021, their certified Xiaohongshu (Little Red Book) account went live, consistently releasing both image and video content.
Today, IQAir's air purifier priced at 18,697 yuan (approximately 2,337 euros) alone achieves a monthly sales volume of over 100 units on Tmall. Among air purifiers priced over 10,000 yuan, IQAir's two models rank third and fourth in terms of sales volume.
(Images come from IQ Air's Official Account in Douyin, RED, and Wechat )
How do Chinese people buy air purifiers?
In China, the trend of selling air purifiers online is evident.
Air purifiers are sold both online and offline in the Chinese market. However, due to the impact of the COVID-19 pandemic, the offline sales market for air purifiers in China has been significantly affected, leading to a noticeable shift towards online sales. In 2020 alone, the online sales channels for air purifiers witnessed a growth of over 20%. By 2022, online sales accounted for 86% of the total sales revenue.
Offline Distribution Channels
Although the proportion of offline distribution has decreased, offline remains an important channel for increasing brand awareness and showcasing products. For many overseas home appliance brands that do not have mature distribution channels in the Chinese market, partnering with established home appliance stores and department stores is a good option to enter the Chinese market.
Online Sales Channels
In China, cross-border e-commerce platforms provide convenient administrative procedures for foreign air purifier brands, allowing them to sell products without the need to register a physical company. Of course, if you successfully obtain an ICP license and establish an official website, you can also conduct sales on the official website.
Tmall Global
Tmall Global, a platform under Alibaba, is the most trusted platform for Chinese consumers to purchase imported products. As of now, Tmall Global has attracted over 29,000 foreign brands from 87 countries and regions. These brands cover more than 5,800 product categories, with over 80% of them making their first entry into the Chinese market.
On Tmall Global, there are two types of listings:
Tmall-operated stores: Brands act as suppliers and sell their products to Tmall, which takes care of the product sales and related delivery services.
Official stores: Brands set up their own stores on Tmall, paying fees to have control over the store's creation, management, and operation.
JD.com (京东)
JD.com (京东) International is a brand under the JD Group that focuses on cross-border trade of imported products. With its efficient logistics, JD.com has gained a high reputation among Chinese consumers. JD.com International offers nearly 20,000 brands and 10 million SKUs, covering various product categories such as fashion, nutrition, health & beauty, and imported food. It collaborates with international brands from over 70 countries, including the United States, South Korea, Japan, Australia, France, and Germany.
JD Self-operated Store: Products in the self-operated store are purchased, transported, and sold directly by JD.com. These products are marked as "self-management" on their product pages. Brands can utilize JD.com's logistics and after-sales services in the self-operated store.
Brand JD Flagship Store: JD.com allows brands or exclusive authorized merchants to open flagship stores on the platform. JD.com charges an annual fee but does not participate in store operations other than merchant management and customer service (refunds, complaints, etc.).
Achieving Sales Conversion Through Online Promotions
In China, the mid-year 618 and the year-end Double Eleven are the two biggest online promotion events. For some non-urgent shopping needs, many people choose to make purchases during these periods. Once overseas air purifier brands have gained reputation through digital marketing, they need to achieve sales conversion through online promotions on comprehensive e-commerce platforms. Therefore, understanding the promotion strategies of online platforms, planning in advance, and actively participating in promotional events are crucial for the brand.
STAiiRS helps you grow in China
After the COVID-19 pandemic, Chinese people have become increasingly concerned about their health, making them more inclined to purchase air purification systems. However, the penetration rate of air purifiers and health appliances in China is only 2%. The Chinese air purifier market holds tremendous business opportunities for overseas brands.
If you wish to succeed in the Chinese market, understanding Chinese consumers and familiarizing yourself with Chinese cross-border e-commerce platforms are crucial. STAiiRS is an experienced digital marketing company in the Chinese market. We can help you establish an online store and provide a complete set of digital marketing services. We can also assist you in connecting with offline distributors, helping your brand gain recognition from scratch in the Chinese market. Our services include:
Creating official certified accounts for your air purifier brand on various platforms
Video releases, content creation, and article formatting
Improving search engine rankings through keyword optimization, optimizing social media data, and increasing brand awareness
Collaborating with Key Opinion Leaders (KOLs) based on your brand positioning
Assisting you in setting up online stores on major Chinese cross-border e-commerce platforms such as JD.com and Tmall. We will provide comprehensive support from store design to order management.
Helping you find suitable offline distributors or partners for cooperation
Would you like to learn more about the Chinese air purifier market and explore effective marketing strategies? Please contact us now. STAiiRS' professional team in the Chinese market will provide you with detailed answers!