Since two years, the coronavirus crisis has changed our behaviors, including in the B2B sector.
The most notable current trend in B2B is the digitization of the sales process. It is worth understanding that this phenomenon is valid for many sectors and, above all, that it will continue. Therefore, the B2B marketing techniques used before the crisis are different from those used today.
Prior to 2020, companies bought and sold to each other through traditional interactions. This included:
Field visits,
Factory visits,
Face-to-face meetings…
Although word of mouth and trust between companies can get many customers, it is often not enough. Therefore, it is important to understand that due to the length of the sales cycle in B2B, it is crucial for a company to have multiple touch points to meet the needs of customers and prospects.
If you work in the B2B sector, here are the top traffic acquisition levers in 2022 that you should be aware of, especially in the Chinese market:
Baidu SEO
Baidu SEA
Baidu Ai Cai Gou
Zhihu
An expansion project in China? We can help you!
1. Baidu SEO
I think we all agree that B2B websites have to put in a lot of effort if they want to get long term organic traffic on Google. This is also true in the Chinese market, so if you want to get traffic to your website in China, it is imperative that you work on your SEO on Baidu. We have already written an article listing the different steps that will allow you to have excellent SEO on Baidu in the medium term.
2. Baidu SEA
Currently, it is very difficult to get a good ranking on Baidu in the short term. To overcome this and get traffic quickly, advertisers can use the platform's various paid tools. In fact, in addition to Baidu SEO, the platform has created its own products, such as Baidu SEA, Baidu Bajia, Baidu B2B (Ai Cai Gou), etc.
Baidu SEA is an advertising product similar to Google SEA. Although it works in the same way as other search engines, Baidu SEA has many features of its own, such as:
Image extensions: Baidu SEA allows the inclusion of 3 or more images in an ad.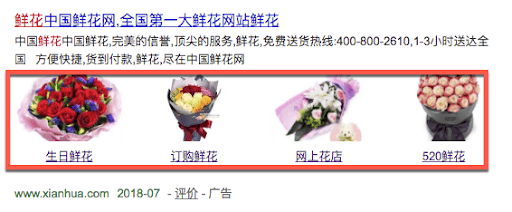 Video extensions: Unlike Google, Baidu SEA offers the ability to include videos within ads. This allows advertisers to achieve a CTR that averages 15%, with an average viewing time of 20 seconds and a completion rate of over 66%.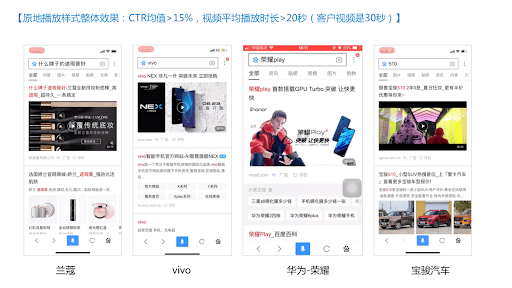 Online chat extensions: This feature is very effective especially in the B2B sector, where users can click on the query button on the ad to open a chat and communicate directly with the selling company.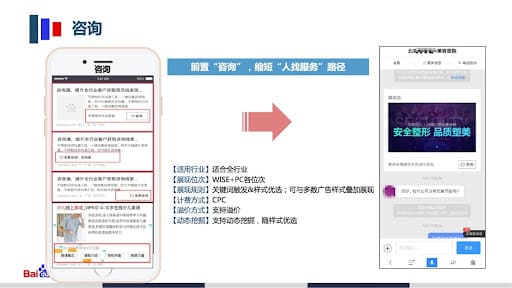 Therefore, we strongly recommend implementing a digital strategy on Baidu that combines SEO and SEA, in order to maximize your brand exposure and increase traffic to your site.
3. Baidu B2B (Baidu Ai Cai Gou)
This name probably doesn't ring a bell, but in a nutshell, it's a B2B sourcing platform launched by Baidu. Aiming to provide a dedicated environment for the B2B sector, this platform allows buyers to search for products, access a detailed product description page, but also to buy it or request information from the seller. Its function is similar to that of Alibaba's B2B platform.
Baidu currently places the results of this platform at the top of the search results.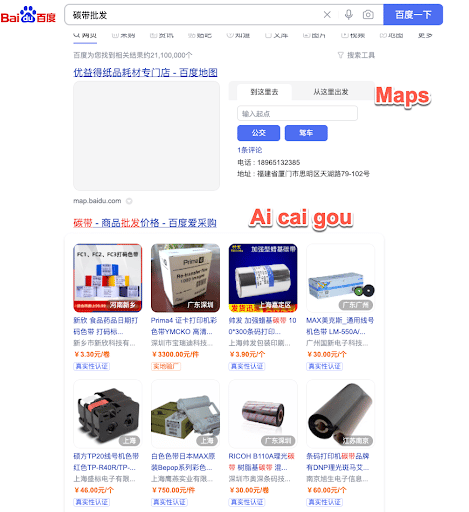 Baidu B2B (Ai Cai Gou) homepage: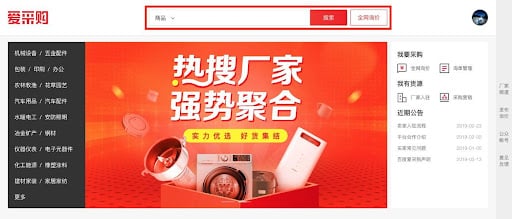 Search results page:

Products page:
On this page, users have access to product information, a video and the seller's contact number, and they can also use the online chat. This is a great help to increase the number of inquiries and thus improve the conversion rate.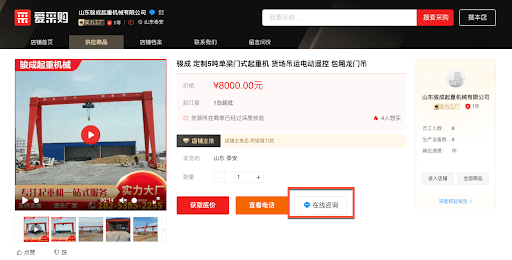 4. Zhihu: The Chinese Quora
What is Zhihu?
Zhihu is a very important knowledge sharing and Q&A platform for the Chinese market. It works in a similar way to Quora.
Why Zhihu?
Zhihu reached 85 million active users in 2021, 50% of them from major cities. The platform is very popular in the Chinese market and is highly trusted by local users. They often consult Zhihu's content before buying a product.
For B2B brands, judicious use of this platform can help solve technical questions end users may have. The brand can then communicate with users in a Q&A format, thereby increasing its exposure and user trust.
It is important to note that Zhihu content is easily indexed by Baidu and often ranks highly.

For many B2B brands, China has always been the most important market, and in this article, we explain how to successfully enter the B2B digital market in China, which we hope you will find useful.
STAiiRS is a professional digital marketing team made up of native speakers who are dedicated to helping brands better understand and successfully enter the Chinese market.
If you have any questions about this, please contact us and we will be happy to answer them.