Fashion clothing brands use their clothing styles to express their individuality and embrace specific trends and cultural influences. The market for trendy clothing in China is valued at approximately $15 billion USD (according to Euromonitor data). From 2020 to 2022, the annual compound growth rate of the fashion-forward clothing market on platforms like Taobao and Tmall exceeded 30%.
The target consumers for trendy clothing is expanding each year, with significant increases in average spending per person and the number of buyers. These statistics highlight the rapid growth of China's trendy clothing market and the continued enthusiasm from consumers for this style, providing robust support for the expansion of international trendy clothing brands in the Chinese market.
Current status of China's fashion brand market
The Rise of Fashion Brand Culture
In China, the rise of fashion brands is closely related to the emergence of diverse cultures. Young people are enthusiastic about expressing their affiliations with specific cultures through clothing. Thus, fashion brands have gradually become a prominent feature of the public sphere.
The video platform Bilibili focuses on various subcultures such as anime and gaming, attracting a significant number of Generation Z youth. In recent years, Bilibili has continually expanded its content, leading to a more diverse audience group.
Chinese variety shows have also played an important role in the expansion of trendy brands within the Chinese market. "The Rap of China" introduced Supreme, a leading global fashion brand, to the Chinese public's attention. With the show's popularity, Supreme's sales in the Chinese market have experienced rapid growth.
Social Media Helps Fashion Brands Become Popular
Young people focus on displaying individuality and uniqueness when selecting clothing and brands, as this serves as a means of expressing self-identification. Social media offers an excellent platform for young individuals to effortlessly connect with like-minded peers within their circles. By sharing outfits of the day (known as OOTD) on social media, young people can cultivate a sense of identity and belonging within their social circles.
Similarly, when fashion brand clothing gains widespread exposure on high-traffic social media platforms, it naturally draws the attention of individuals beyond its circle. This process broadens the audience for fashion brands, making the brand accessible to a wider and more diverse group of people.
Generating Traffic with Celebrity Live Streaming
As fashion brands integrate into the everyday outfits of celebrities, they gain broader recognition among the general public. Celebrities like Yang Mi, Luhan, and G-Dragon have emerged as the most powerful influencers, acknowledged by trendy brands. Their daily personal styles, airport outfits, sportswear, and even costumes in films and television series can incite fervent imitation and significantly boost the sales of the corresponding products, collections, or even the entire brand.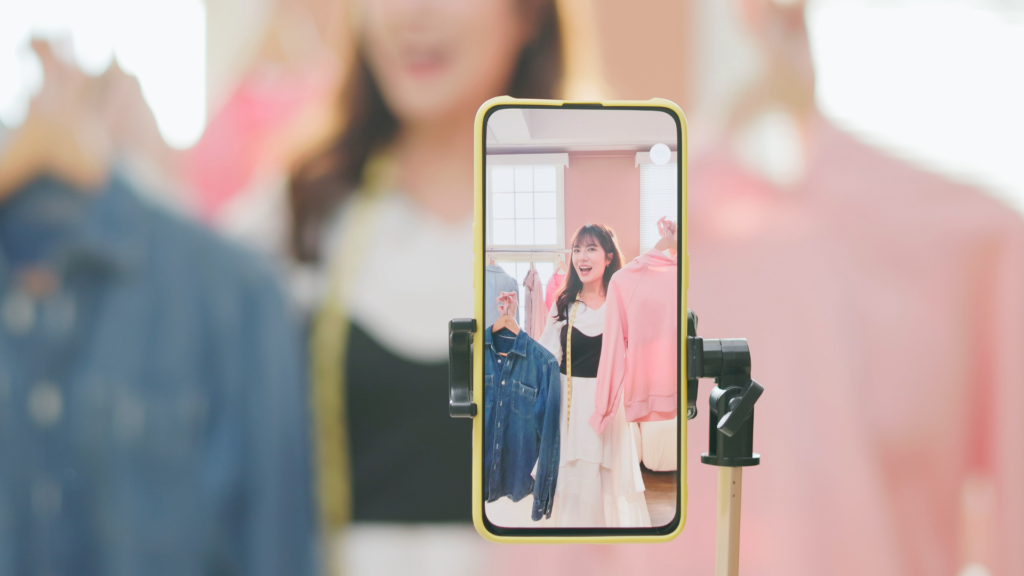 Under the influence of many factors, fashion brands gained in popularity in China. This also triggered the rise of Chinese national fashion.
In China, Who Are the Consumers of Fashion Brands?
In China, the main consumer groups of fashion brands are young people born in the 90s, 95s and Generation Z, especially the 18-24 year-old who have the highest proportion and growth rate. These young people have a strong rebellious spirit, and are keen on exploring new things by showing their individuality through clothing.
Geographical Factors: Within the fashion brand market, consumption remains significant in first- and second-tier cities, whereas it is comparatively lower in cities categorized as third-tier and below. However, the growth rate in the latter group surpasses that of the first-tier cities.
Gender-related Factors: The men's fashion brand market has experienced remarkable growth, indicating a heightened level of consumption enthusiasm.
The fashion brand market adheres to the principle of "super users", where about 10% of the core users contribute to nearly 48% of the overall market share. These core users exhibit a deep understanding of fashion brand history and design concepts. They willingly embrace new seasonal products and enthusiastically share trend-related information within their social circles. The shopping preferences of this young generation create an environment where fashion brands can easily engage and convert potential customers. However, this also presents challenges in terms of customer loyalty.
In a highly competitive market of fashion brands, achieving growth requires the brand to highlight its unique style and intrinsic values. This approach is essential to capture the trust and lasting support of young consumers. A case in point is the "Mukzin" brand's skillful integration of bold yet harmonious color palettes with traditional Chinese elements, earning it consumer appreciation.
Brand Promotion and Sales of Fashion Brands: Diversification
In China, fashion brands need to deploy multiple online and offline channels for sales, such as sales through e-commerce platforms, social media, and offline stores, to meet the shopping needs of different consumers.
Fashion brand consumers often look for outfit inspiration on social media and then make purchases online. For fashion brands that are new to the Chinese market, it is the most cost-effective way to test the Chinese market online and build a fan base.
Little Red Book
Little Red Book is the most popular UGC planting platform in China. Many trendy people will share their outfits in the form of pictures or Vlogs on Little Red Book. Fans of fashion can also discover trendy outfits of other internet users on Little Red Book, keeping up with the fashionable trend.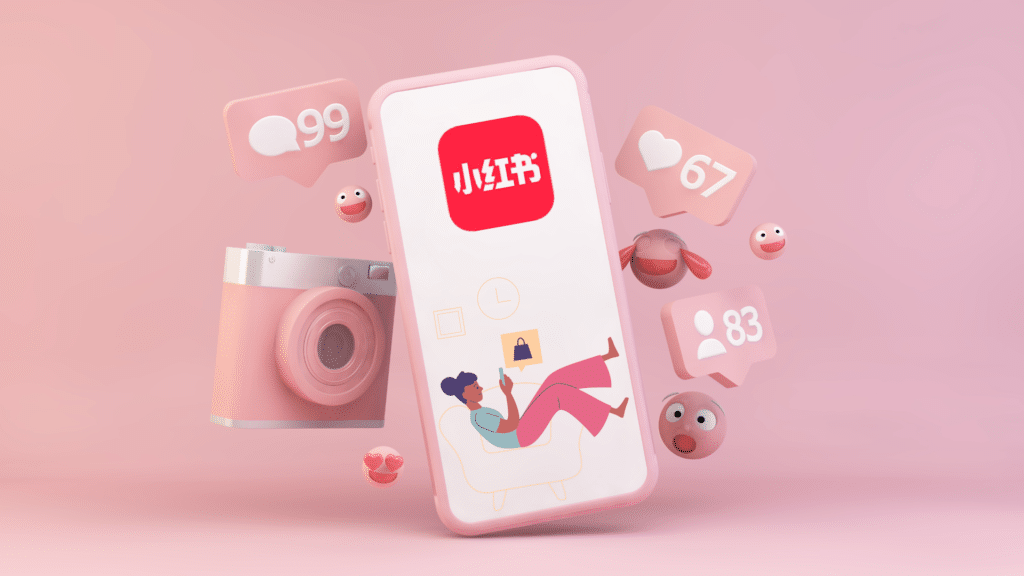 For overseas trendy brands, it is crucial to operate official accounts and collaborate with fashion KOLs. Cooperating with KOL can win a good reputation for the brand and attract the attention of potential consumers. At the same time, operating an official account can show the brand style and values to potential consumers. In this way, when potential consumers are attracted by product recommendations released by KOLs, they will search for brand names to ensure that brands can appear in consumers' search results.
Douyin
Douyin is China's TikTok, which has considerable influence in China. Users have the capability to share visual and audio content on the platform. International trendy brands can leverage this highly-trafficked platform to create popular content, attracting the attention of a large number of young people. At the same time, brands can proactively collaborate with Key Opinion Leaders (KOLs), harnessing their influence to amplify brand awareness and appeal potential customers to the brand's official accounts.
WeChat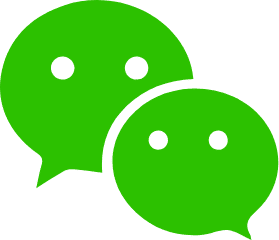 WeChat is an important channel for overseas trendy brands to enter the Chinese market, and it can serve brands from two patterns: WeChat Official Account and WeChat Mini-Program.
The function of WeChat official account is to establish interaction with consumers. Overseas fashion brands can introduce new products, release discount information, promote events, communicate your brand storytelling, etc. on the WeChat official account. Consumers following the brand's Official WeChat Account will receive brand updates, which is similar to an email marketing approach.
The WeChat Mini-Program can be understood as a simplified brand official website. Users can easily browse product details on WeChat, add shopping carts, pay and complete orders without downloading any apps.
In China, consumers are used to getting outfit inspiration on social media, and then go to general e-commerce platforms (such as Tmall, JD.com) or WeChat mini-programs to complete shopping. Therefore, the exclusive sale of foreign fashion brands on the official website is not suitable for Chinese consumers.
For those brands that want to test the Chinese market, the initial investment and output of establishing a brand official website in China may not be directly proportional, especially when it involves complicated administrative procedures such as applying for an ICP license. In contrast, WeChat Mini-Program has obvious advantages.
Case Study: The layout of I.T Group on WeChat
I.T Group is one of the leading fashion retailers in Hong Kong. The fashion brands it represents include: D&G, Miu Miu, Jean-Paul Gaultier, Alexander McQueen, Cacharel, A.P.C., Anna Sui, Asknowas, Poudoudou, Toutacoup, Mystywoman, Pageboy, etc.
As early as 2011, I.T Group began to launch e-commerce business, establishing online and offline, national and international membership systems, implementing point sharing, and encouraging users to switch from one brand or one channel to another with the aim of driving conversion and repeating purchases. In 2018, I.T Group's WeChat mini-program "ITeSHOP" was launched. As a substitute for the official website and the app, it is easier and more flexible, further simplifying the online shopping path for consumers and lowering the conversion threshold.
I.T Group has a complete layout around official accounts, video channel, mini-program, Wechat Souyisou, Wecom, and group chat to form a complete WeChat ecosystem and closely interact with target customers. From March 2021 to the end of the year, ITeSHOP, a mini-program deployed by I.T Group, has launched a total of 25 prize draws, with nearly one million hits and 550,000 new fans.
How Should Overseas Fashion Brands Be Sold in China?
In China, the channels for consumers to purchase fashion brand products are mainly divided into two parts: online and offline. For overseas fashion brands that want to enter China, it is undoubtedly a more cost-effective, more convenient and feasible way to first accumulate a fan base online, and then expand offline stores, supplemented by offline marketing methods such as pop-up stores.
TMALL
Tmall Global is an e-commerce platform of the Alibaba Group, focused on the sales of brands and retailers. The merchants on the platform are usually well-established brands and officially authorized distributors, enjoying a high reputation among Chinese consumers. Self-operation and brand implementation are the main business models of Tmall Global. Nearly 30,000 international brands have already joined Tmall Global, covering various categories such as clothing, home, beauty, and more, providing consumers with a wide range of product choices.
There are two ways for foreign fashion brands to enter Tmall Global:
Tmall Self-Operated Store: Brands purchase goods as suppliers and sell them on Tmall, and Tmall are responsible for sales, delivery and other services.
Official Flagship Store: The brand opens its own store on Tmall and controls the development, management and operation of the store by itself.
JD.com
JD.com, another e-commerce platform in China that focuses on cross-border trade of imported goods, has earned an excellent reputation among Chinese consumers for its commitment to efficient product delivery and quality customer service. The product categories on the JD.com platform are extensive, covering more than 70 countries and regions around the world, from daily necessities to luxury goods.
There are also two ways for fashion brands to enter the Chinese market with JD.com:
JD.com Self-Operated Store: JD.com purchases goods from manufacturers and sells them on JD.com. Brands can benefit from JD.com's logistics and after-sales services.
Official Flagship Store: Brand merchants enter JD.com to open stores, and the store operations are the responsibility of the companies themselves.
Live Streaming
In China, live streaming is one of the trendiest marketing methods. According to statistics, in this year's 618 event (one of the two major online shopping festivals in China), the cumulative revenue of live shopping platforms reached 184.4 billion yuan, with a growth rate of 27.61%, far exceeding the growth rate of general e-commerce platforms.
General e-commerce platforms such as Taobao, JD.com, Pinduoduo, and Tmall are all fiercely competing for a share of the live streaming market. At the same time, short video platforms such as Douyin and Kuaishou are gradually joining the ranks of live streaming and digital marketing. Therefore, overseas fashion brands entering the Chinese market can execute a comprehensive marketing and publicity on multiple platforms in the form of live streaming, attracting more consumers' attention, building brand awareness and promoting transactions.
Wechat Mini-Program
As mentioned above, the WeChat mini-program functions as a simplified brand official website, and consumers can directly complete operations such as shopping and placing orders in WeChat. For overseas fashion brands that want to enter the Chinese market, the WeChat Mini Program provides flexible function customization. Brands can design a unique brand official website in the Mini Program to improve user experience and shopping convenience.
Offline Pop-up Store
For overseas fashion brands that have not yet set up offline stores, offline pop-up stores are the best way to improve brand awareness and establish brand connections. In addition, offline pop-up stores can create a unique experience for consumers, and it is an efficient way for brands to directly interact with consumers and understand consumer needs and preferences.
Case Study: The Successful Case of French Fashion Brand Ami Paris in China
Ami Paris is a French designer brand established in 2011. Its products are positioned at the light luxury level, and the price is around 1,000 RMB. The brand's revenue target in 2023 is more than 300 million euros, which has achieved several times growth compared to 2019's 35 million euros.
Ami Paris mainly relies on e-commerce channels and retail networks for sales, and adopts a cautious attitude towards opening stores offline. This strategy has accumulated a considerable fan base and valuable decision-making basis for Ami Paris before opening offline stores. From the opening of the first flagship store in mainland China in Beijing in 2018, by the end of 2021, Ami Paris has opened 8 stores in China, among which the Chinese market performed best, with sales increasing by 300% year-on-year.
What Should Overseas Fashion Brands Who Want to Enter the Chinese Market Pay Attention to?
As previously mentioned, Gen Z exhibits a remarkable level of recognition and curiosity towards novel brands and trendy concepts, rendering fashion brands adept at capturing the attention of these youthful consumers. However, the challenge lies in retaining these consumers, which is a shared concern for all fashion brands.
Focus on Social Identity and Trend Orientation
The success of trendy brands is closely related to consumers' social identity. If a brand can represent a certain social group or fashion trend and is recognized in the social circle, consumers are more inclined to continue to support the brand. On the contrary, if a brand is not recognized in the corresponding cultural circle, it is likely to be forgotten by consumers.
Therefore, in order to make consumers repurchase trendy items, overseas fashion brands need to build their own brand image on social media, and continue to cooperate with KOLs to occupy consumers' minds, follow fashion trends and take advantage of the situation.
Highlight brand identity and selecting products that match with Chinese consumer preferences
For international brands, it's highly essential to meticulously select products specifically for the Chinese market. Brands should not only share their distinctive values but also be adjusted to the concerns of Chinese consumers regarding sensitive elements. The previous Dior incident involving a horse-face skirt serves as an example of how Chinese consumers expressed dissatisfaction due to their perception that the brand displayed disrespect towards traditional Chinese clothing. This highlights the importance for international fashion brands to be vigilant about such sensitivities.
Nonetheless, brands do not need to deliberately add Chinese style elements to appeal to Chinese consumers. On one hand, Chinese style elements can be intricate to understand and may lead to inappropriate representation. On the other hand, domestic Chinese fashion brands have already successfully blended Chinese style with contemporary fashion, making an excessive use of Chinese elements by international brands risk diluting their unique identity.
Co-branding Products to Seize the Chinese Market
The core essence of fashion brands revolves around embracing audacity and individuality. For overseas fashion brands aspiring to enter the Chinese market, co-branding offers a seamless match with this distinctive character.
To begin with, collaborating with an established brand already well-known in the Chinese market can swiftly raise your visibility, garner more attention, and attract an initial wave of customers drawn by the co-branded partner's influence. Simultaneously, co-branded designs present a splendid opportunity to ignite consumers' desire for repeat purchases. Limited-time availability of co-branded products holds particular allure for trend enthusiasts due to their rarity. Hence, co-branding presents an efficacious avenue for swiftly boosting sales in a short period of time.
In summary, for overseas fashion brands aiming to establish a presence in the Chinese market, there are three key strategies to capture the attention of Chinese consumers:
Comprehending the values and preferences of Chinese youth
Collaborating with KOLs who resonate with the brand's audience
Executing a comprehensive multi-platform approach.
Therefore, you need to understand the preferences of young people in Gen Z in China, be familiar with the gameplay of Chinese social media, and be able to maximize the use of public and private domains to attract potential consumers and turn them into loyal users.
STAiiRS is a French company specialized in webmarketing services with extensive experience in the Chinese market. STAiiRS can help you formulate brand promotion and marketing strategies for different social media platforms, help you select suitable cooperative KOLs, carry out targeted digital marketing activities, promote your brand and products, and capture the attention of Chinese consumers online, opening up the market opportunities.
If you want to know more about the Chinese fashion brand market and explore effective marketing channels, please contact us now. STAiiRS international professional team will provide you with detailed answers and help you successfully enter the Chinese market.