What is "WeChat Ask"?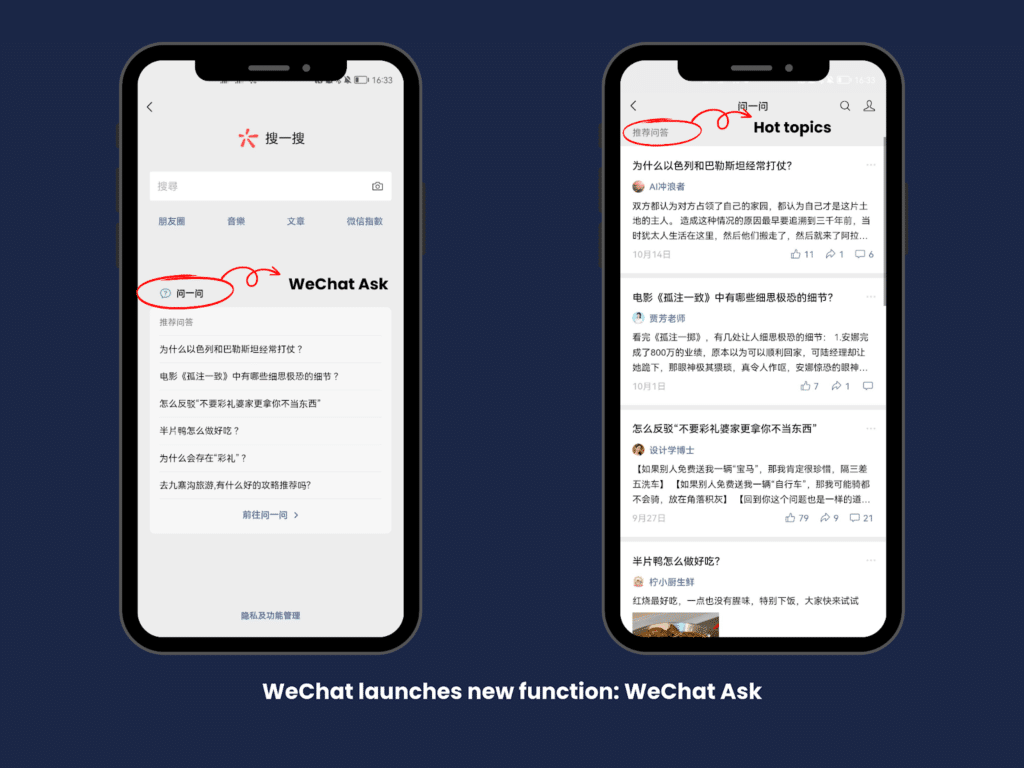 WeChat users can directly access the "WeChat Ask" page through its search function. This function allows them to ask questions or provide answers on topics of interest as authors of public accounts or videos.
WeChat Ask is a new member of wechat ecosystem. It can integrate content from public accounts and videos, becoming a new form of traffic acquisition.
Is WeChat ask is a new Zhihu (Chinese Quora)?
Question: WeChat already has public accounts and videos, so why introduce this new feature?
The anwser: WeChat aims to complete its ecosystem.
Users can't actively obtain the information they seek from the Chinese No.1 social media official accounts and videos. This is because both platforms broadcast content , based on a recommendation algorithm for those in need.
It's a one-way action that doesn't directly connect those with questions and those with experiences to share. Users can't find answers to their concerns through search, and those with experiences to share don't know what people need.
So, to meet this need, it provides a platform that directly connects those with questions and those who can answer them.
Wechat values high-quality content creators through its public accounts and videos. These authors contributed 398 million articles to the most inflential official accounts platform in 2022!
WeChat values articles' originality, and it becomes a primary publishing platform for content creators, with 19.66 million original articles in 2022!
Are you Considering Elevate Brand Exposure in China ?
WeChat ecosystem: facilitate internal links
To facilitate internal shares within the its ecosystem. This Chinese No.1 social media platform inhibits external links.
Its ecosystem does not permit direct access to external links.
It initially put this measure in place to protect user data and prevent traffic leakage within the WeChat ecosystem. Now, allowing users to directly receive requested services keep them on the platform and maintains traffic.
Sharing content on WeChat is a breeze without having to exit the app. Users can distribute it through individual chats, group conversations, stories, videos, public profiles, and the "WeChat Ask" feature.
Conclusion
In conclusion, the WeChat ecosystem integrates communication, entertainment, search, and other functionalities for its users, cultivating WeChat usage habits. The positioning of the new "WeChat Ask" feature is unclear. It is also unknown if it will effectively meet user needs.
Want to elevate your brand presence in China ? Please contact STAiiRS . Our professional marketing team will always be here to assist you in planning and implementing a comprehensive WeChat digital marketing solutions.