On 8th, July, 2022, TikTok officially launched its new product "Kesong (Croissant)" in China. The name "Kesong", which, interestingly enough, is also a translation of the French croissant, with the tagline "Define your vitality", Kesong is currently available for download on both iOS and Android platforms.
An expansion project in China? We can help you!
What is "Kesong (Croissant)"?
"Kesong (Croissant)" is TikTok's version of RED (Little Red Book). It supports users to upload graphic and video content. Users will receive the platform's recommended content on the home page, and most of the content currently comes from TikTok's creators.
Kesong's (Croissant) graphic format is similar to that of RED (Little Red Book), with pictures and text that can be slid left and right at the top of the page, with comments from users listed at the bottom. Its video content is displayed by using TikTok's short video interface.
The navigation bar at the bottom of Kesong (Croissant) is divided into five sections: home, search, creation, message and personal interface.
In the search interface, users can search for related topics or find content creators.
For creation, only graphic content creation is currently supported, no video can be released, and the released work can be viewed on the personal page. The content will be synced to TikTok. At present, "Kesong" is in the promotion stage; content creators may be recommended by the TikTok platform and get wide exposure.
The info page shows the information of followers, likes and related comments, all from TikTok. users can view private messages from friends of TikTok and Kesong, as well as other chat messages.
TikTok adds a function of "experience" to the search results to share the content creator's life experience (UGC). In addition, TikTok has added "goodies recommendation" and "recommended product video" to some of its creators who have an E-shop window to display their products. In this way, TikTok creates the link from content to e-commerce.
Kesong has not yet connected to shopping functions (such as e-commerce, online store, life service etc), and is currently a content community.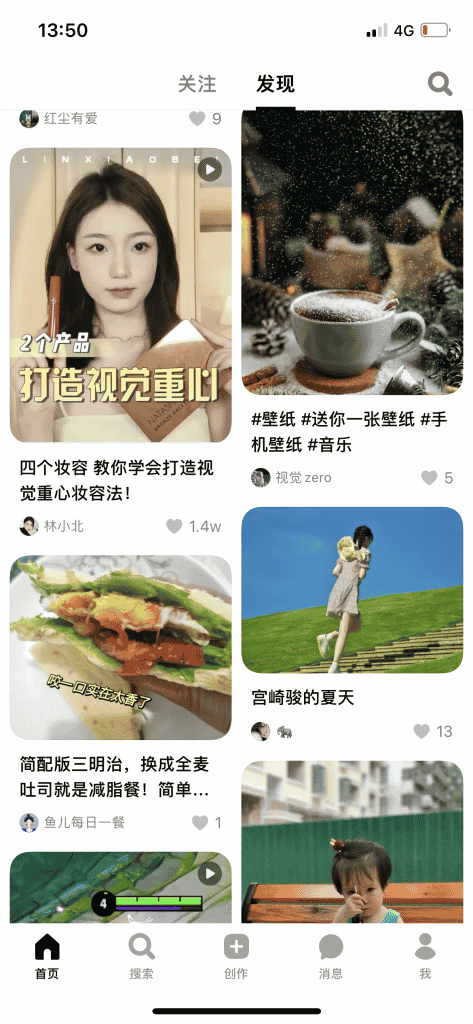 The "longing-inspiring economics" behind Kesong
It is no surprise that TikTok chose to enter the "longing-inspiring" market, because the "longing-inspiring" UGC does not only constitute a simple content sharing community, but also a platform for converting consumer transactions and fulfilling business purposes. This model has great potential and advantages:
1. Advertising advantage
Before ordering, users browse to review videos of promoted goods, similar to the off-line "comparison products" before buying in a shop. While product reviews and unboxing videos are key factors influencing young consumers to make purchasing decisions.
Compared with traditional ads, "longing-inspiring" UGC is richer in topic selection and presentation forms; its video scenario is more lifelike and easy to be trusted by consumers.
In addition, the influence of "longing-inspiring" UGC on the mind is long-lasting, not only the direct conversion of ROI in the short term; in the long term, for good products, users of "longing-inspiring" UGC community will spontaneously generate more UGC content, bringing long-term value to brands.
2. E-commerce based on user interest
Chinese consumers prefer products with unique brand features and functions. The proportion of "interest-triggered" shopping is increasing. The e-commerce platforms are also working to empower brands with rich content, matching UGC to users' potential desire and finally stimulating users' consumption demand.
TikTok has long put forward the concept of "interest-based e-commerce" to inspire consumers to discover their potential interests and help merchants recommend goods to interested consumers. The "longing-inspired" content on Kesong is the key to activate user's interests, linking content to online transactions.
3. Finalize e-commerce business closed loop
TikTok already has accumulated a large number of users; coupled with the "longing-inspiring" strategy, it is possible to improve users' online shopping experience. "Longing-inspiring" UGC can create infinite consumption scenarios, to enrich and extend brand influence.
This time, TikTok does not only tap into users' needs, but also forms a perfect transaction closed-loop under its "community + e-commerce" model. In any case, if the Kesong App is launched, it is worth watching whether it can bring more sales and orders for TikTok e-commerce and local life business. Is this big move a new opportunity for brands? Is it an advantage to be on the platform now? Everything is worth the wait!
Want to know more about the Chinese market?
Contact STAiiRS for more information.