When we talk about Chinese social media, the first thing that comes to our mind is WeChat, TikTok, etc. If your brand is targeting young Chinese consumers, Little Red Book (Xiaohongshu) is the platform you must know.
An expansion project in China? We can help you!
1. What is Little RED Book (Xiaohongshu)?
Little Red Book was founded in 2013 as a shopping and lifestyle sharing platform, featured for its UGC (User Created Content). The platform has more than 200 million users with nearly 1 billion times exposure every day. It is the largest consumer word-of-mouth sharing and community e-commerce platform in China, and a must-have shopping tool for more than 70 million young Chinese consumers, of which up to 60% are female users.
Real word-of-mouth is the most solid link between brands and consumers
The uniqueness of Little Red Book lies in word-of-mouth marketing. The whole community is a huge users' word-of-mouth database. On this platform, tens of millions of real consumer experiences from users constitute the world's largest consumer word-of-mouth database, which makes Little Red Book a "think tank" valued by brands.
Through Little Red Book, Chinese consumers have learned about good foreign brands. Therefore, the social media has become a link between Chinese consumers and premium/famous foreign brands.
2. How to touch the young Chinese consumers?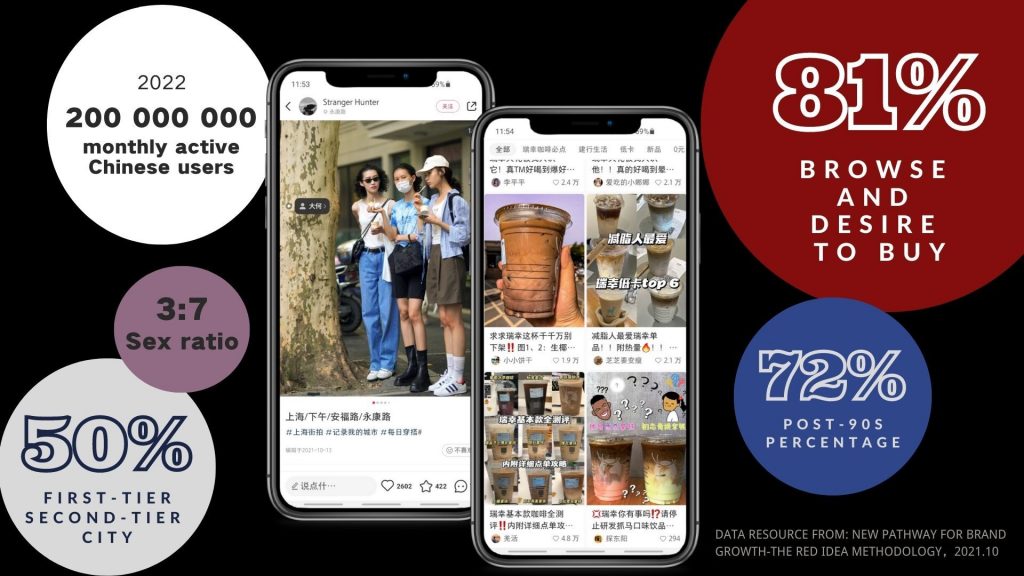 Little Red Book positions its users in the middle and high-end consumer group and takes "sharing good life/shopping/traveling/products" as the starting point to help users share their life experience. It connects users' native notes with a shopping mall module seamlessly to realize a community -mall profit model. The large number of product sharing notes and product reviewing notes make Little Red Book a practical tool App, and its natural advantage lies in that users use and rely on it in their daily life.
The active level of Little Red Book users is very high, which to a certain extent makes the daily traffic of Little Red Book guaranteed. In the future, the platform will eye more on affluent Chinese people.
3. Little Red Book (Xiaohongshu), why is this Chinese social media so important for brands?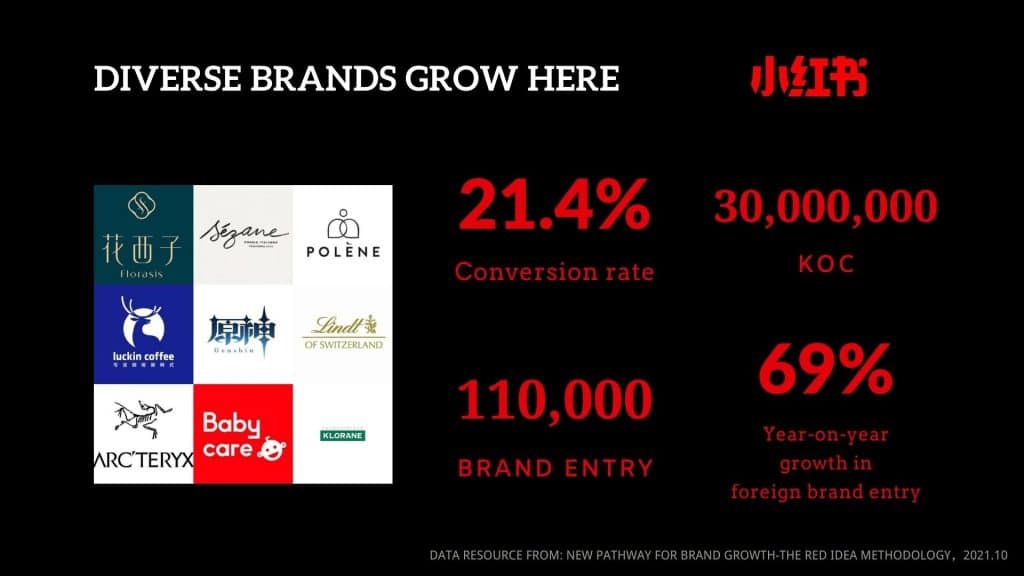 The traffic of Little Red Book is enormous, and there are many popular celebrities stationed there to attract fans to join in this platform; so, the number of platform users is increasing continuously.
The official platform of Little Red Book will recommend indexed, high quality notes to people who search for them with reference to its algorithm.
The Little Red Book platform is highly interactive, which is its biggest advantage. Users can post videos, pictures and other content or interact with users by leaving messages and following in the comment section. User stickiness and relevance are very strong. Through friends sharing or platform recommendation, users can enhance their trust in brands and goods, so deals are more easily to be realized. Combining its social feature with E-commerce function (Little Red Book's shopping mall), Little Red Book mall diverts users to the shopping section, becoming a very successful social commerce platform.
Younger and dynamic users
Little Red Book's user group is young and large. Its platform users are mainly young people, dynamic, advanced thinking, easy to accept new things and have strong desire to consume. This group of users stimulate platform consumption to a large extent.
4. How to touch target users in the fastest way?
In addition to the organic posts on Little Red Book, brands can also release product/brand introduction articles/videos directly on the Little Red Book app in the form of information flow.
When advertisers place infomercials on Little Red Book, they can better find their target users through targeting settings such as gender, age, region, mobile device, etc., and show their ads directly in front of them, so they can get better and better advertising results.
Little Red Book app has already opened its commercial ecology of information flow advertising. Official brand accounts release native notes: brand partners write/share their notes to amplify the influence of brand content.
Young users search for information by browsing notes shared on Little Red Book. They are willing to try new products recommended when they see it, and they are also glad to share their experience after using/testing products, which generates more attention and sales conversion for brands.
5. Why do brands need to set up corporate accounts in Little Red Book (Xiaohongshu)?
Brand protection: Little Red Book is the best promotion and operation assistant for brands and products. Enterprises can apply for the Little Red Book enterprise account, certify the logo of blue V, and publish high-quality content accounts. Official enterprise's account has an exclusive blue V logo. The official certification logo brings more opportunities for both display and exposure.
Credibility: Little Red Book enterprise account can be bound to the official brand store of the platform, users can directly buy goods through the mall without jumping to other platforms, shortening order transaction path.
Direct communication with users: companies can also add cards to the homepage interface, set their contact information and business address, and contact them with one click to help consumers quickly consult or visit the store.
Powerful functions: Little Red Book Enterprise accounts enjoy multi-dimensional data support including fan data and note data analysis, helping brands understand fan growth trends, the characteristics of most popular notes; and ultimately achieving high-quality growth of enterprise accounts. Little Red Book also provides verified enterprise access to multi-dimensional data reports to better understand the account situation, achieving data-driven operations.
Want to find out more about Little Red Book? Want to learn more about digital marketing in China? Do not hesitate to contact us, we will be happy to answer your questions!