Recently, Douyin users have noticed that when purchasing products on Douyin, the option to use WeChat Pay has been hidden. Does this foreshadow a competition for traffic between Douyin and WeChat? In the past, using the mobile payment function on Douyin required redirection to third-party payment platforms (WeChat Pay or Alipay). However, the latest change is that Douyin now primarily recommends Douyin Payment as the payment method, followed by Alipay, while WeChat Pay is nowhere to be found.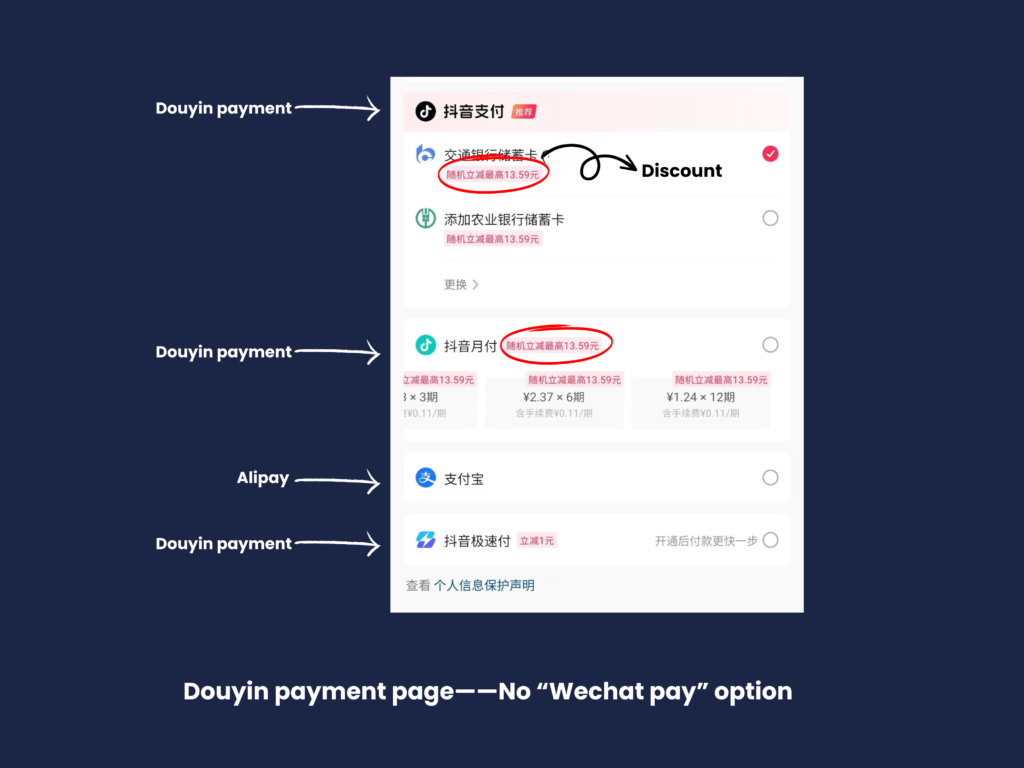 Douyin Establishes a Comprehensive Closed-Loop Ecosystem
Clearly, this move indicates that Douyin is gradually building its closed-loop ecosystem, providing comprehensive services for every stage from watching short videos, live streaming with product recommendations, influencing product choices, making purchases, to online payments.
On one hand, Douyin encourages users to choose Douyin Payment for online payment choice by offering discounts, interest-free installment options, and other incentives. This gradual cultivation of users' payment habits on Douyin provides a smoother shopping experience and drives the growth of GMV (Gross Merchandise Volume) and SKU (Stock Keeping Unit) varieties. This further solidifies Douyin's position as a comprehensive social e-commerce platform.
On the other hand, Douyin previously relied on third-party payment platforms, and as GMV increased, so did the associated third-party transaction fees. With its massive user base and traffic, Douyin no longer needs to rely on third-party payments to complete the whole shopping process, reducing third-party payment-related expenses and creating greater space for Douyin's development.
An expansion project in China? We can help you!
Future Competitive Landscape Between Douyin and WeChat
We can foresee a trend in the online payment sector in China shifting from the competition between WeChat and Alipay to a three-way battle. For users, Douyin's removal of WeChat Pay might seem sudden, but in fact, Douyin has been taking actions for a long time, preparing to further develop in the financial services sector. This is an important step they have taken.
In contrast, the collaboration announced between Taobao and WeChat allows the user bases and traffic of both platforms to interconnect, promoting further development for both parties. These two distinct models of "collaboration" and "independence" each have their characteristics and advantages. In the highly competitive e-commerce industry in China, these traffic giants are actively seeking opportunities in the incremental market.
If your brand is looking to establish a store on Douyin, the incorporation of Douyin Payment into your strategy is a crucial step. Please don't hesitate to contact us, STAiiRS professional team is ready to offer you a range of digital marketing solutions tailored for your entry into the Chinese market.
To learn more information of Chinese e-commerce platform, please contact STAiiRS and we will provide the most professional advice according to your needs.