The current market situation and trends of fragrance products in China
In China, the emerging "olfactory economy" is gaining attention as Chinese consumers have stronger consumption power and the demand for fragrances is growing. The Chinese fragrance market is expanding continuously .
Fragrance is usually divided into liquid fragrance, solid fragrance (furniture fragrance), bath fragrance; and according to the use of scenarios including personal care fragrance products, home-used fragrance, vehicle-used fragrance and fragrance used within a commercial environment.
In the Chinese market, the fragrance market is almost monopolized by well-known international brands. However, with more and more perfume brands entering the market and the growth in the young chinese consumers population, new niche fragrance brands are emerging in large numbers and taking more market share gradually.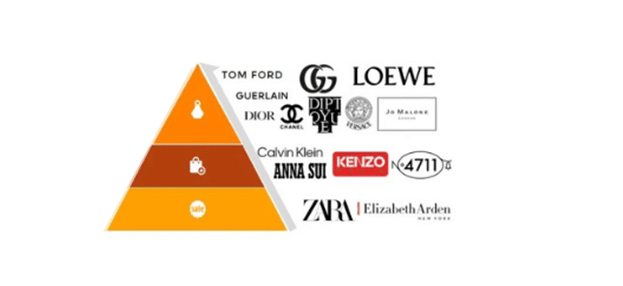 Data shows that China's perfume market size reached RMB 10.9 billion in 2020, up 11.2% year-on-year, and is expected to reach RMB 30 billion in 2025. The Chinese perfume market is developing rapidly and the growth rate is much higher than the global perfume market. Therefore, the Chinese perfume market is still in the stage of development, and will become the main growth engine of the global perfume market in the future.
(Data sources:iiMedia Research)
In China, the consumer of fragrance products
Data shows that China's fragrance market is dominated by young people aged 24-40 (77.2%), and the female group (67.1%) is the main consumer. Consumers are concentrated in first and second tier cities (71.3%), with corporate white-collar workers (43.9%) in the majority. 65.6% of consumers have a monthly income of RMB 5,000-15,000, which is significant in spending power.
(Data sources:iiMedia Research)
Features and trends of perfume products in China
China's fragrance market is more segmented and personalized
Since the z-era generation is taking a dominant position in China's fragrance market, their consumption preferences are also an important indicator in analyzing the Chinese fragrance market.
Generation Z in China has very specific consumption habits, they value character and individuality. This is reflected in their pursuit of niche fragrances; brands' awareness is no longer the exclusive advantage that they value. They'd like to try different fragrances, incense, essential oils, solid fragrance and other categories etc. For the new generation, niche products also have great competitiveness as long as they have unique and impressive features.
An expansion project in China? We can help you!
At the same time, the Chinese Z-generation also pays attention to "healthy living". In today's fast paced, high stress world, many young people are blighted by stress, anxiety, insomnia and health problems. As fragrance's healing power is widely accepted, "zen and healing effect " has become an important criteria for the Z generation when they are comparing fragrances.
Chinese consumers value experiential consumption
In China, experience consumption has become the trend for all industries, and fragrance is no exception. More and more offline experience stores will appear in the fragrance industry, providing consumers fragrance fabricating and testing experiences, just like cat-themed cafes or bookstores.
So for international fragrance companies, they need to understand Chinese consumers' demand, integrate it with their products, and shape their unique brand image. Most importantly, fragrance brands need to impress Chinese consumers with their fragrance story, history and culture .
How to promote perfume products in China?
All worlds' fragrance brands are eyeing the vast Chinese market, but entering the Chinese market is not easy. Brands need not only high-quality products, but also a good understanding of the special Chinese market environment.
First of all, we need to know social platforms that are popular among Chinese consumers, which are completely different from those of other countries.
Which platforms can be used to promote fragrances in China?
In China, the most popular "seeding" KOC platform for fragrance products is : Little Red Book
The most suitable platform for perfume brand marketing is Little Red Book. As the most trendy " UGC/ experience-sharing" platform in China, Little Red Book is perfect for international fragrance brands to market their products. Users of Little Red Book are young, and they have a strong desire to share their life and like pursuing high-quality life and new experiences. (Click to learn more about Little Red Book's platform)
Fragrance brands enjoy a lot of autonomy on Little Red Book in terms of topic selection, content creation and advertising strategy. For example, they can cooperate with KOC/KOL, publish picture and text content, or create entertaining video clips etc.
In addition, domestic brands use both search and news feed to increase traffic on Little Red Book.
WeChat : Multi-functional integrated platform for fragrance product branding.
Another very important platform for fragrance branding in China is WeChat, the most important and largest social platform in China. For Chinese consumers, a brand's WeChat official account on the WeChat platform is a symbol of authority and trustworthiness. In other words, Chinese consumers get used to considering brands' WeChat Official account as official websites (Chinese consumers are not in the habit of using the official websites of brands to browse information and make purchases).
In WeChat, fragrance brands are able to perform all service functions such as new product launch, branding, consumer coupon distribution, interactive events, customer service and even purchases. Once consumers connect themselves with the brand on WeChat, they can receive information directly from the brand, which is very important to increase user adherence.
Since the Chinese fragrance industry is still in its development stage, it is necessary for brands to inform users of fragrance knowledge and cultivate their fragrance consumption habits. Brands can use WeChat's official account and Wechat mini-programs to showcase the brand's fragrance culture and aesthetic philosophy, establishing high-end brand image among potential consumers.
So perfume brands' WeChat operation directly affects brand's image/ market positioning and consumers' purchase decisions.
TikTok (DouYin): largest interactive video platform for fragrance products marketing in China
The last Chinese social media platform we have to mention is Douyin (TikTok China).
In China, TikTok (DouYin) has become a very mature platform for companies, normal users, KOL and celebrities to promote their products. Creative content has created a high impact for various products and brands.TikTok's advanced traffic pool algorithm can analyze users' preferences accurately. This function greatly reduces brands' ads exposure costs, contributing to increase brand's customer stickiness and developing potential markets.
Imported fragrance brands need to put great emphasis on their own perfume culture and fragrance test feedback. With this need, TikTok is the most suitable marketing platform. Most of its marketing content is entertaining and informative, and it is easier to attract natural traffic than other types of products on theTikTok platform, which has a strong entertainment purpose.
Therefore, international fragrance brands, especially niche up-and-coming brands, can integrate creative content with specific life scenarios in creation. It is easier to "win audiences' hearts" by using video marketing on Douyin in 2023.
How do you sell perfume products in China?
In terms of distribution channels, there are two types of sales channels for fragrance products in China, online and offline. Generally speaking, international fragrance brands tend to sell online first, combined with offline flash stores and bazaar activities. Brand can also open theri e-stores on Chinese social media channels such as Little Red Book and WeChat Official Account.
International fragrance brands' offline sales channels in China.
In China, offline sales channels for perfumes are very diverse, including department stores, shopping centers, Sephora brand collection stores; and duty-free stores and outlets.
Chinese online sales channels for imported fragrance brands.
Fragrance brands' own ecommerce platforms.
In China, the well-known perfume brands can sell on their official websites. Of course, this requires the brand to have good Chinese language skills and the ability to promote.
(Example of international fragrance brands selling on their official websites: image from Dior China website)
Tmall International: the online shopping platform trusted by Chinese consumers
Tmall Global, the import retail platform of Alibaba, is the most trusted platform for Chinese consumers to buy imported products. Up to now, more than 29,000 overseas brands from 87 countries and regions have entered Tmall International, covering more than 5,800 categories, with more than 80% of them entering China for the first time. For personal care and beauty products, Chinese consumers prefer to purchase on the Tmall platform.
This year, more than 20 niche perfume brands from France, Italy, the United Kingdom and other countries participated in the 618 event for the first time, and ushered in sales growth. The British royal perfume CREED doubled in sales and the Italian SMN, a niche fragrance brand, participated in 618 for the first time, ranked the top of the Tmall list of imported perfumes on the same day. And the British century-old brand MoltonBrown saw sales growth of over 130%.
International perfume brands have two forms of presence in Tmall International :
Tmall self-operated store: Brands sell their products to Tmall as suppliers, and Tmall is responsible for the sales and service of the products.
Tmall official flagship store: The brand opens its own official flagship store in Tmall and pays a fee for the brand to control e-store creation, management and store operation.
Authoritative shopping platform with strong logistics – Jingdong International
Jingdong International is a branch of Jingdong Group, mainly engaged in cross-border import business, and it has won a high reputation among Chinese consumers for its efficient logistics and customer service. Jingdong International has attracted nearly 20,000 brands with nearly 10 million SKUs. Its product categories include fashion, mother and child, nutrition and health care, personal care & beauty and imported food. Jingdong International works with international brands from more than 70 countries and regions, including the United States, Korea, Japan, Australia, France and Germany.
Jingdong self-operated brand store
Jingdong self-operated store's goods are purchased, transported and sold by Jingdong itself, and such goods will have the label of "self-operation" on their product pages. Jingdong self-owned products are generally shipped by Jingdong and Jingdong provides after-sales service. Brands can enjoy the logistics and after-sales service of Jingdong self-operated stores.
Jingdong brand flagship stores
The brand or Jingdong's exclusive licensee can create their brand flagship store on the Jingdong platform. Jingdong charges an annual fee, except for managing merchants and customer services (refunds, complaints, etc.), and Jingdong is not involved in store operations.
In short, for fragrance products, an excellent marketing strategy can achieve twice the result with half the effort. With the surging demand of the Chinese perfume market, various local brands and imported brands are competing to win Chinese consumers, and they are all thinking about how to win brand reputation in the Chinese market.
Want to know more about the Chinese fragrance market? STAiiRS provides you with a professional guide to fragrance marketing in China, helping you use your expertise to enter the Chinese fragrance market, promote your brand culture and increase sales. Contact us, STAiiRS Chinese digital marketing experts are at your service.