In 2023, as the "Double 11" shopping extravaganza approaches, Little Red Book (Xiaohongshu) is setting its sights on the household appliance sector. China's e-commerce landscape has experienced a remarkable surge over the last decade, establishing itself as the world's largest e-commerce market. From fashion and footwear to kitchen appliances and groceries, virtually every conceivable product is now just a few clicks away. This explosive growth owes its success not only to the sheer number of Chinese internet users but also to the innovation and diversification of e-commerce platforms.
A recent trend in the realm of Chinese e-commerce is the emergence of social e-commerce, a new and captivating branch. Diverging from traditional e-commerce platforms, social e-commerce amalgamates the features of social media, creating a dynamic space for users to recommend and purchase products through their social networks. This model places a paramount emphasis on user experience and interaction, making the act of shopping more enjoyable and communal.
Among the pioneers in the realm of social e-commerce is Xiaohongshu, which, thanks to its unique content-sharing and product-recommendation approach, has swiftly captured the attention of a vast, youthful user base. Nevertheless, it faces formidable competition from traditional e-commerce platforms and the daunting task of penetrating the conventional household appliance sector.
What is the significance of the "Double 11" promotion in China?
The "Double 11," also known as "Singles' Day," stands as the preeminent online shopping festival in China. Every year, on November 11, all major e-commerce platforms unleash a flurry of promotions. Xiaohongshu, originally conceived as a social platform for sharing lifestyle experiences and shopping insights, has made a transformative shift towards becoming an e-commerce hub.
What is Xiaohongshu?
Xiaohongshu, also referred to as "Little Red Book" or "Red" in English, is a Chinese platform that combines e-commerce and social networking. Established in 2013, it began as a forum for product opinions and recommendations, offering users the ability to post images, videos, and reviews across fashion, beauty, lifestyle, and various other product categories.
Over time, Little Red Book has evolved to encompass e-commerce functionalities, enabling users to directly purchase the products recommended on the platform. Thanks to its distinctive blend of user-generated content and online shopping, Xiaohongshu has established itself as a frontrunner in social commerce in China, primarily attracting a young, predominantly female audience.
Want to elevate your presence in China?
Contact STAiiRS
The E-commerce strategy of Little Red Book
Now, shifting focus to the e-commerce strategy of Little Red Book – with the approaching "Double 11," the e-commerce giants like Alibaba, JD.com, and Pinduoduo are gearing up, and Xiaohongshu is no exception. Recently, Xiaohongshu has unveiled a series of supportive policies aimed at both merchants and consumers, with a particular emphasis on the household appliance sector, signaling a keen interest in this market.
Xiaohongshu's approach to the household appliance sector
Xiaohongshu's approach to the household appliance sector is noteworthy. The ongoing transition of the household appliance market to the online domain has garnered considerable attention from e-commerce platforms. Xiaohongshu's interest in this sector has been further emphasized with the introduction of various support measures and activities. Notable among these are collaborations with Siemens and Bosch, as well as a cooperation project with interior designers, underscoring the importance Little Red Book attributes to the household appliance market.
However, with a user base predominantly comprising Generation Z and female consumers, Xiaohongshu's e-commerce ecosystem has primarily revolved around beauty, skincare, fashion, and clothing. It remains to be seen if household appliance brands can secure a significant foothold within this ecosystem.
Nonetheless, there's no denying that Xiaohongshu is presently displaying a strong strategic inclination towards the household appliance industry. In this context, merchants can seize this opportunity, harnessing the platform's robust traffic to actively seek breakthroughs and gain a competitive edge.

Xiaohongshu's strategy for household appliances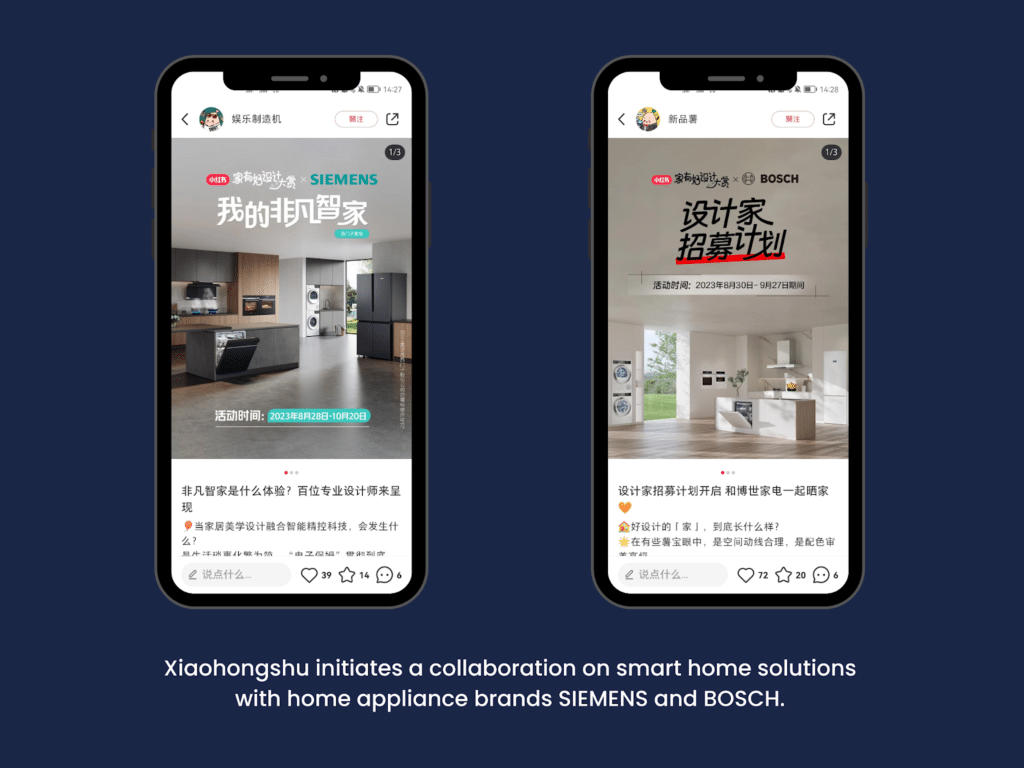 Yet, the challenges in Xiaohongshu's strategy for the household appliance sector should not be underestimated. While Xiaohongshu has made strides in this sector, it faces formidable competition from traditional e-commerce platforms like JD.com and Taobao, which have well-established positions in the household appliance market. To carve its niche, Xiaohongshu must define its unique characteristics and advantages.
Conclusion
In conclusion, the household appliance e-commerce market in China is intensely competitive, and as a relative newcomer, Little Red Book must continuously innovate and work diligently. Only through the provision of top-tier products and services can it secure a substantial presence in this market.
If you want to know more about the Chinese digital marketing channels, please contact STAiiRS now.
STAiiRS international professional team will provide you with detailed answers and help you successfully enter the Chinese market. STAiiRS can help international companies formulate brand promotion and marketing strategies for different social media platforms, help you select suitable cooperative KOLs, carry out targeted digital marketing activities, promote your brand and products, and capture the attention of Chinese consumers online, opening up the market opportunities.